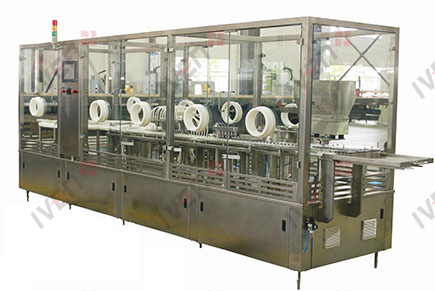 Vial Filling-Sealing Machine
Shanghai IVEN Pharmatech,el más grande fabricante de Vial Filling-Sealing Machine en China, venta de Vial Filling-Sealing Machine de alta calidad a clientes internacionales.
Application:
Terminal sterilized and non terminal sterilized Water injection, lyophilized injection powder, IV solution and other medicine.
Main characteristic:
1. Achieve full time weighing detect of Whole process and automatically feedback the information to adjust filling volume. Working principle of domestic existing type is: firstly take out bottles, weighing then filling, then get bottle for weighing again then take back for closing, this may cause cross-contamination and omission. But our on-line whole process of weighing detection can avoid such kind of risk.
2. Using straight-line stopperring, will not disrupt laminar flow, can be fully avoided rotation filling block of laminar flow and mixed flow caused by rotation, turbulence, avoid cross contamination risks, so meet the new GMP requirements.
3. "0 risk" designing according to the most advance international new concept, there is no mechanical transmission chain on machine table, no dead area, and machine table completed separated from transmission box, so that no friction dusts and oil pollution, which is the pioneer in China, and it's the upgrade product of the same products.
Technical parameters
| Model | KGF4 | KGF6 | KGF8 | KGF12 |
| --- | --- | --- | --- | --- |
| Applicable vial | 2-100ml | 2-100ml | 2-25ml | 2-25ml |
| Production capacity | 2ml:150 Vial/min | 2ml:200 Vial/min | 2ml:300 Vial/min | 2ml:400 Vial/min |
| Filling head | 4 | 6 | 8 | 12 |
| Power | ≈4[KW] | ≈6[KW] | ≈6[KW] | ≈8[KW] |
| Filling error | ±1% | ±1% | ±1% | ±1% |
| Broken rate | ≤0.1% | ≤0.1% | ≤0.1% | ≤0.1% |
| Stoppering rate | ≥99.9% | ≥99.9% | ≥99.9% | ≥99.9% |
| Dimension (L×W×H) | 2,4×1,7×2,6× (m) | 2,4×1,7×2,6× (m) | 2,4×1,7×2,6× (m) | 2,4×1,7×2,6× (m) |
| Weight | ≈2700 Kg | ≈2700 Kg | ≈2700 Kg | ≈3000 Kg |