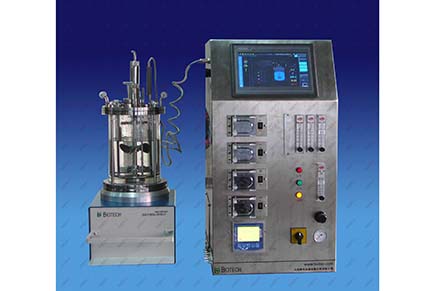 5BGC Offline Sterilized Fermenter
Shanghai IVEN Pharmatech,el más grande fabricante de 5BGC Offline Sterilized Fermenter en China, venta de 5BGC Offline Sterilized Fermenter de alta calidad a clientes internacionales.
Vessel: Total volume: 5L, working volume: 3.5L. Special borosilicate glass vessel with flatstainless steel (316L)top-plate and bottom end. Autoclavable.
Stirrer: Drive with AC motor, speedadjustable. Magnetic drive from bottom. Solid stirrer shaftwith 2 pieces of 6-blade disk impeller and 1 set of foam breaker. Rotate speedrange: 50-1000rpm.
Aeration: With stainless steel ring spargerin the vessel and silica gel tube and air filter outside.
Thermal circuit: Electrical heating unitunder the bottom end of vessel; piping and all required valves to be connectedto cooling water supply.
Peristaltic pumps: 4 peristaltic pumps eachassignable to function for acid/alkali, anti-foam and nutrient feeding. Eachpump including perforation needles and silicone hose. Automatic or manualcontrol.
Control system: Various controller for choose.Details: BIOTECH-7000, BIOTECH-9000